Creating Project Tools for Location Scouts
Location Scouts have a challenging job. They must research, document and project-manage all on-location shoots while using a patchwork of software tools apps not designed to manage the complexity. This leads to poor communication and collaboration, data mismanagement and overall inefficiency.
Challenge
The goal for the project was to create a tool to make on-location shoots easier to manage – easier to scout, document, share and execute.
I developed the concept, sketched and designed the apps, and iterated based on feedback. I worked closely with two veteran location scouts to understand industry challenges.
tl;dr
I researched, designed and iterated an MVP product, capable of managing the core components of a location scout's job responsibilities. It included a web app with management functionality and a native mobile app, designed to capture data in the field.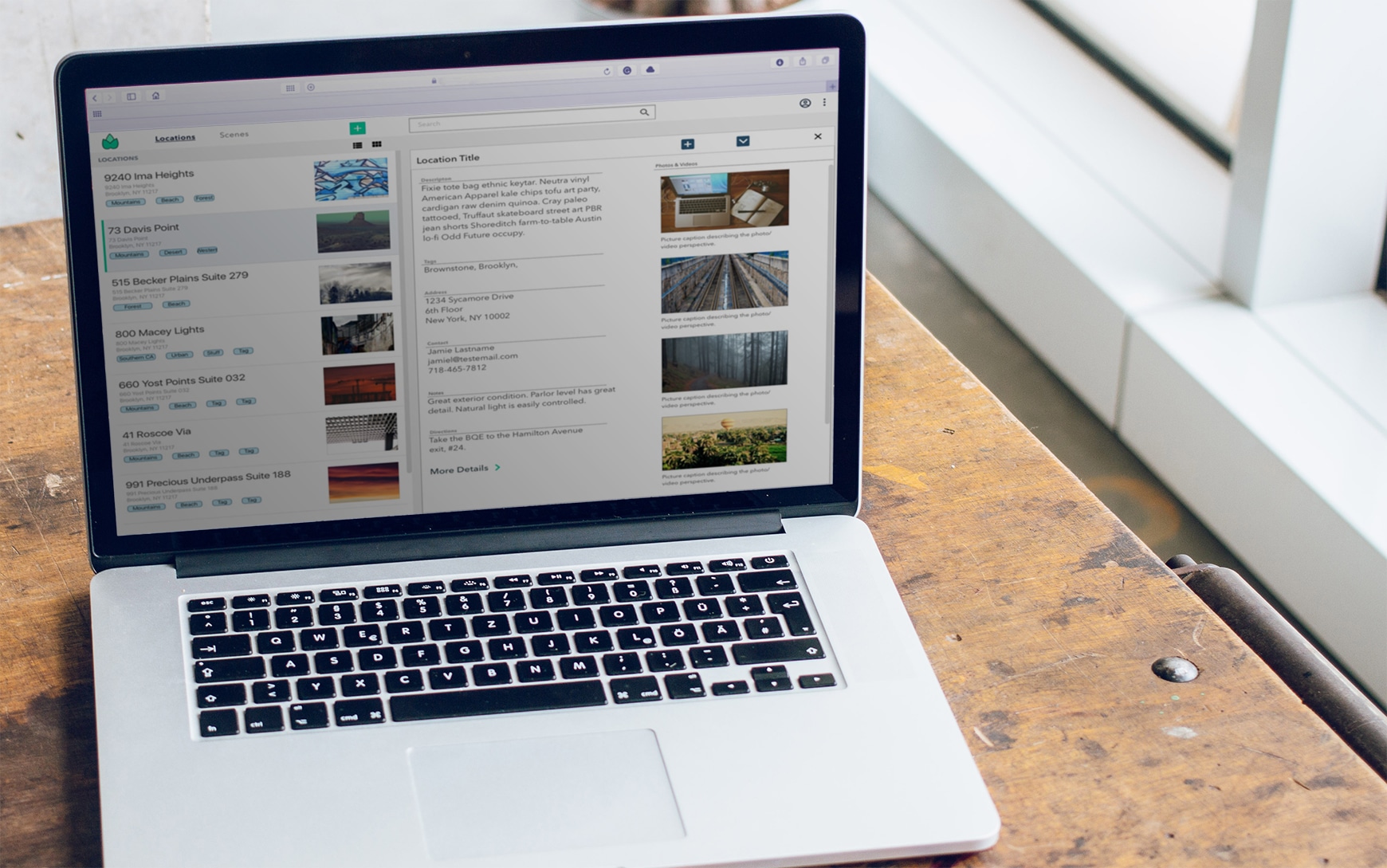 It allowed scouts to manage on-location productions by integrating location data, production needs, and workflow tasks in one interface.
The key insight was splitting one long process into two parts – separating scouting from the approval process. The benefits included a more intuitive workflow and retention of reusable location data; it allowed scouts to build a library of locations.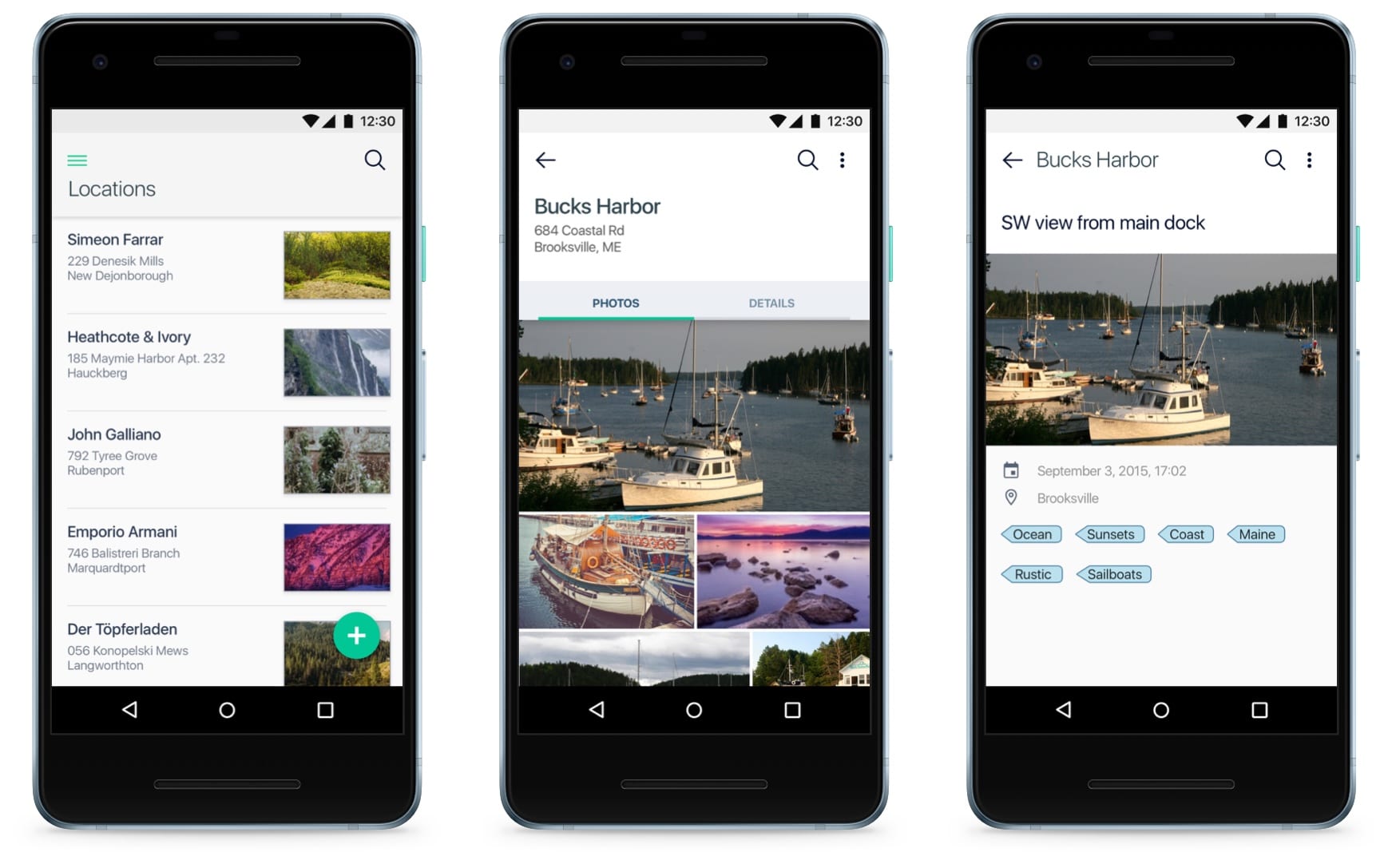 The Process
Research
Research and discovery was done by working with two veteran location scouts to understand their workflow and the challenges they face. Their experience spanned small to large productions across varying forms of distribution.
I mapped the scout's journey, step by step, through the trajectory of their responsibilities and tasks over the course of a project to better understand their challenges and identify areas for improvements.

Sketching out the user journey of the location scouts I interviewed. This helped illustrate that there are actually two parts to the workflow.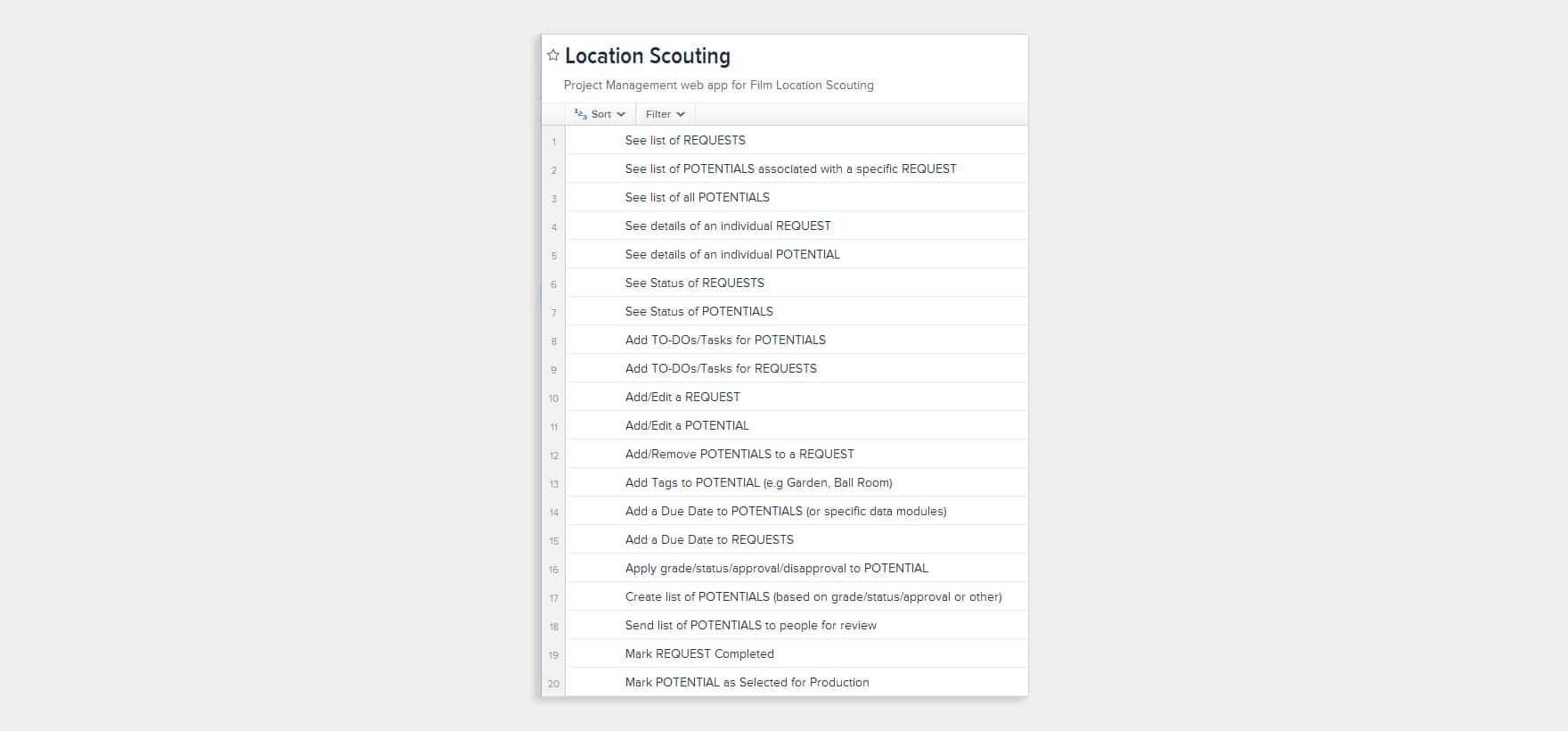 List of scout's user needs for it to be worth replacing their existing tools and methods.
Findings
Because this tool was built with a very specific use case, understanding user needs was critical. The project would have been a waste of time if not for engaging with users. The main takeaways from the user research were:
Documentation Management
Assessing the feasibility of a location for a shoot requires taking pictures, video, making notes, and documenting important details. Unfortunately, that data often ends spread across text documents, spreadsheets, written notes, and photos on cellphones. Managing this documentation is a huge time commitment and challenge. Further, notes and pictures are taken on-site but can't be until back at the office.
Sharing Progress
Once locations are scouted, it's important to share that info with producers. With documentation spread across multiple locations, it often means emailing a lot of attachments to stakeholders. Without one source of truth, project progress can be hard to track.
No History
There is no central record of every scouted location. At the end of a project, all of the carefully gathered data is discarded. It's wasted effort and inefficient for future productions.
Solution
The goal was to integrate the entire location scout work cycle into one tool. The key challenge was determining how to organize and structure data for easy use. The key insight from research was separating one long process into two parts – documenting locations and then project managing the scene once locations were selected.

Sketching out the different views and components for the desktop experience.
The first part of the workflow focused on Locations. I designed it to incorporate data collected across multitude of media, notes on paper, digital images. It also had to contain location properties, including details like address, contact info, map, photos, and keywords.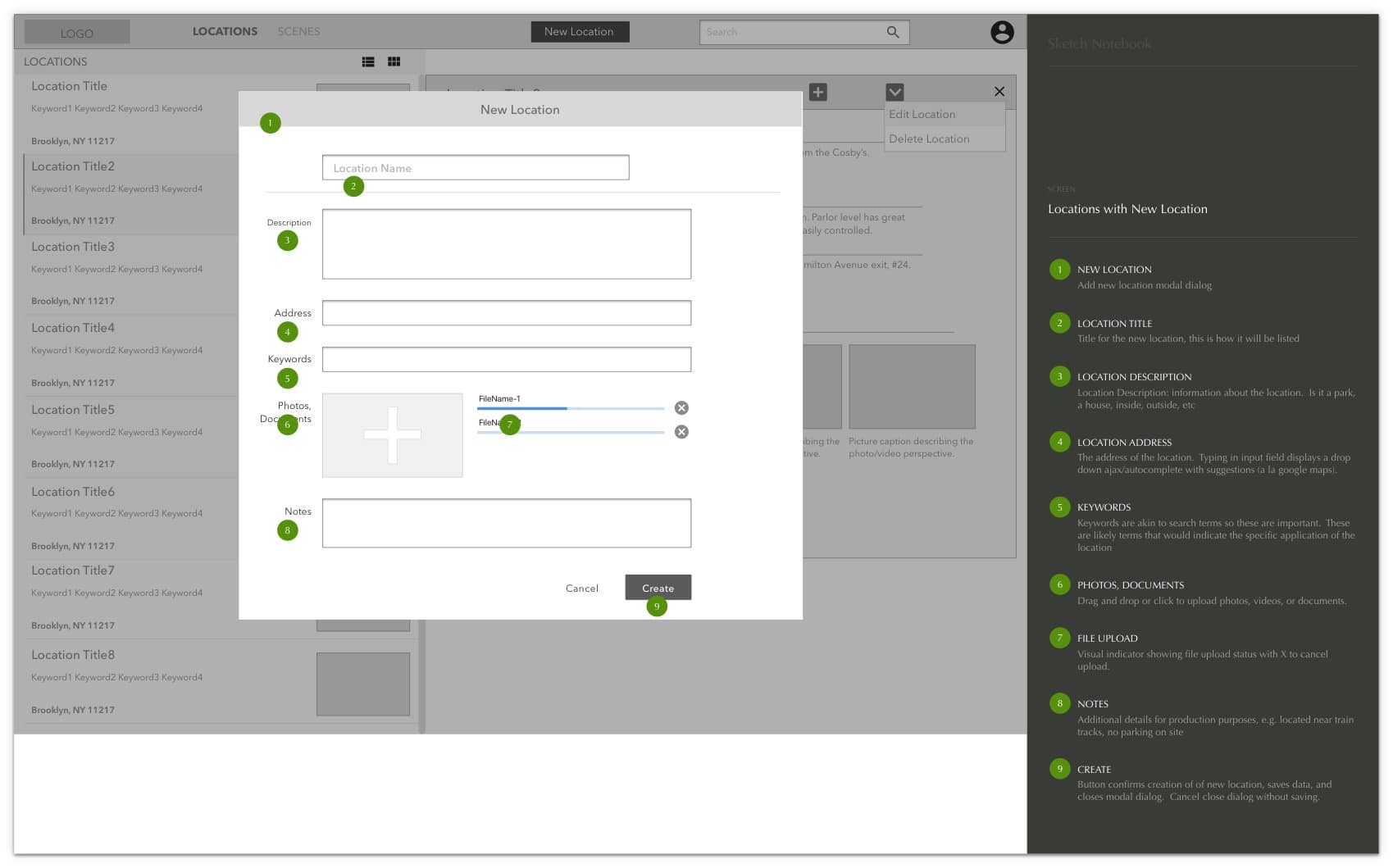 Documentation of creating a new Location.
The second part of the workflow, "Scene," is the parent object of locations and the end-goal of scouting locations in the first place. One or more locations could be added to a Scene as possible options. In addition to production requirements, Scenes would eventually contain info like a call sheet, schedule, and directions.
Scene information could be shared with stakeholders, allowing them to view all proposed locations.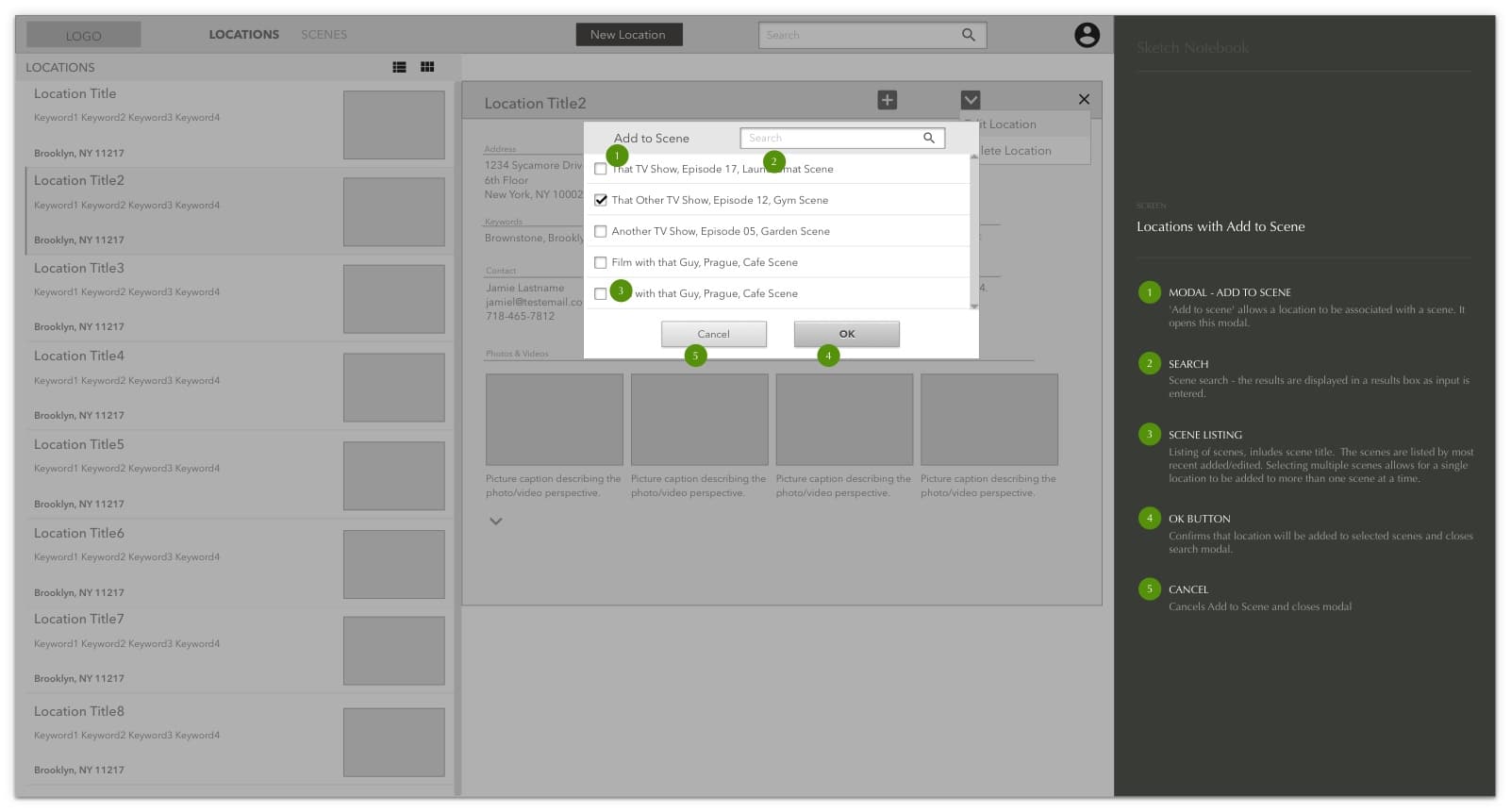 Adding a Location to a Scene as a possible option.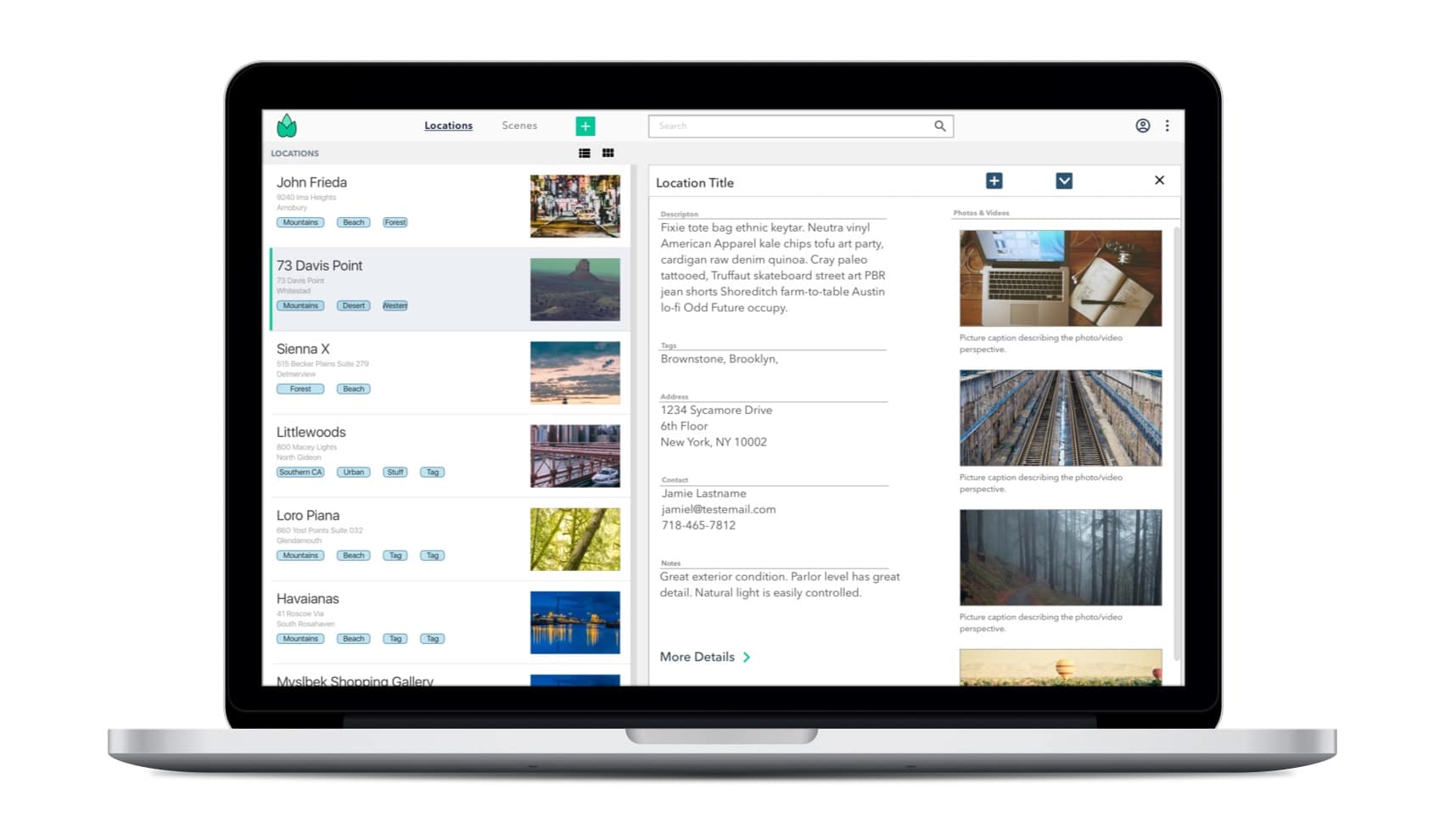 Desktop experience showing list of locations on left with details such as photos and description on right.
Mobile Focus:
Most data gathering happened in the field, making mobile functionality a key. I designed a mobile app with limited functionality to allow adding photos and location details while in the field, eliminating a key challenge cited during research.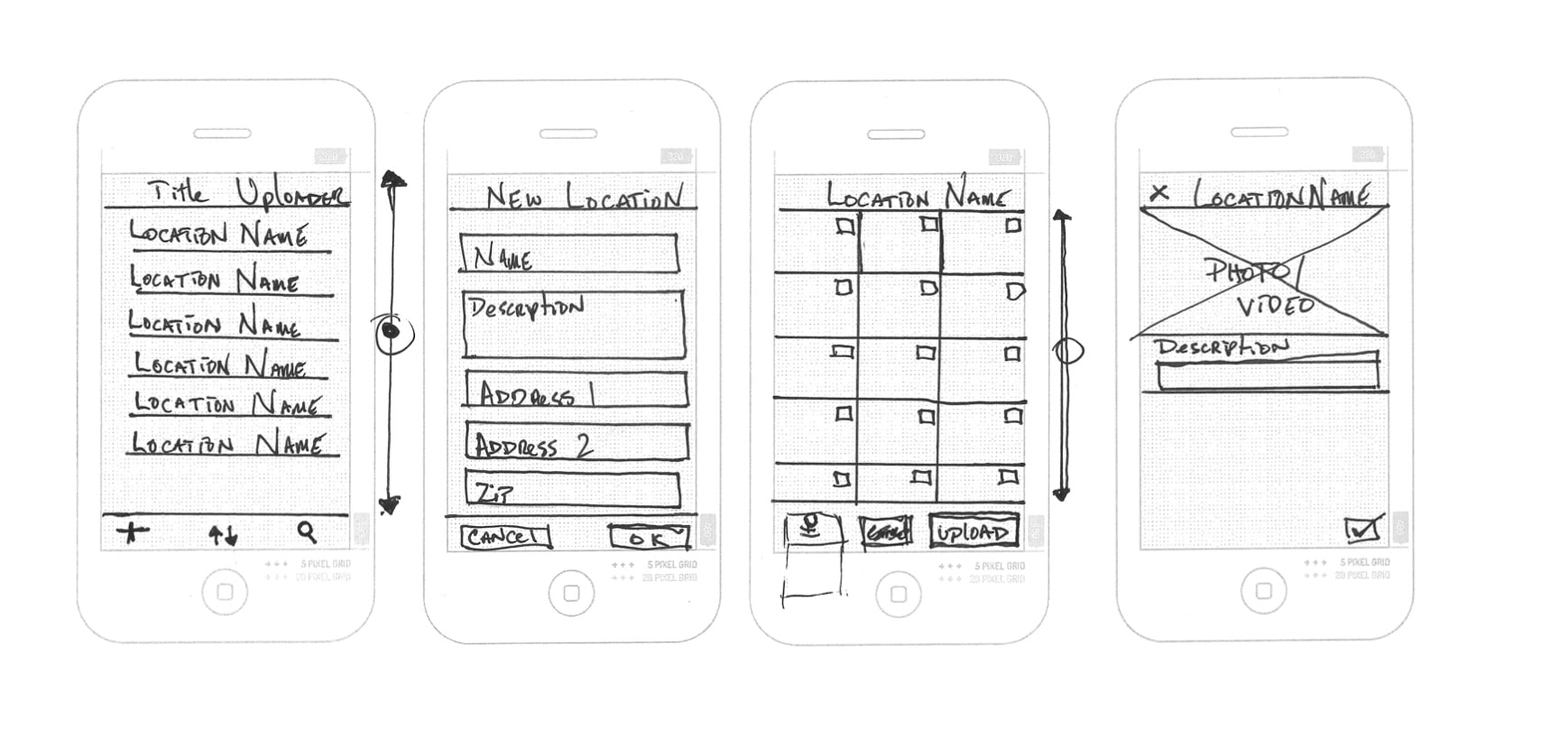 Sketching out mobile flow for creating a new location and adding photos.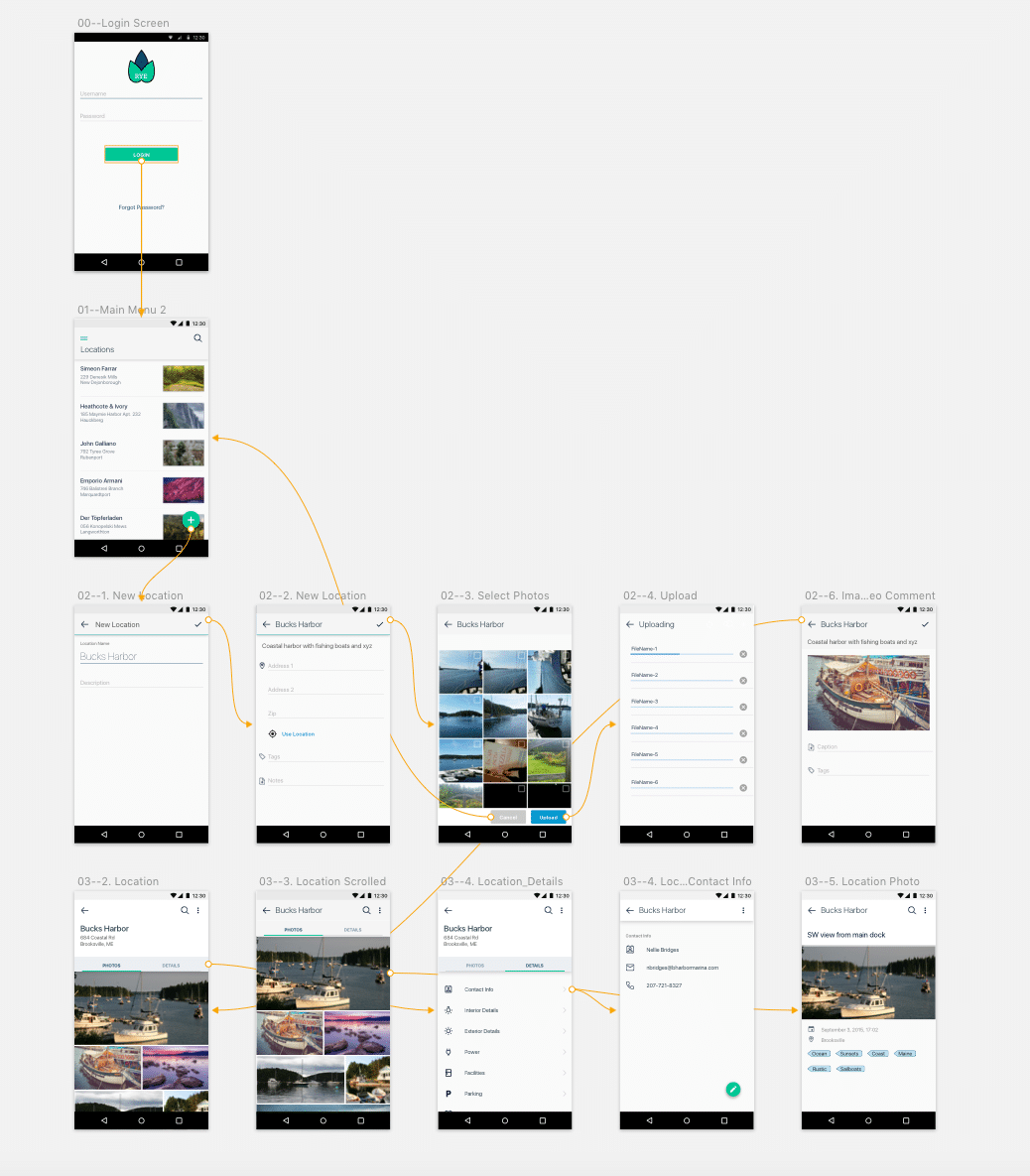 Showing flow for creating a new location and uploading and tagging photos.
Result
Splitting Location data from Scene data meant that location data was saved beyond a project and it naturally created a scouting history. It created professional value by building a library of locations that could be used at any time. Likewise, this established long-term value for the product – a larger library of locations was more valuable, saving time and by re-using past work.
I envisioned the mobile app as  a secondary experience, largely supplementing the desktop webapp. However, the mobile functionality created the most excitement. While far from perfect, it seemed to create the biggest shortcut for scouts. Potential next steps include refining the mobile experience and adding more on-location specific functionality.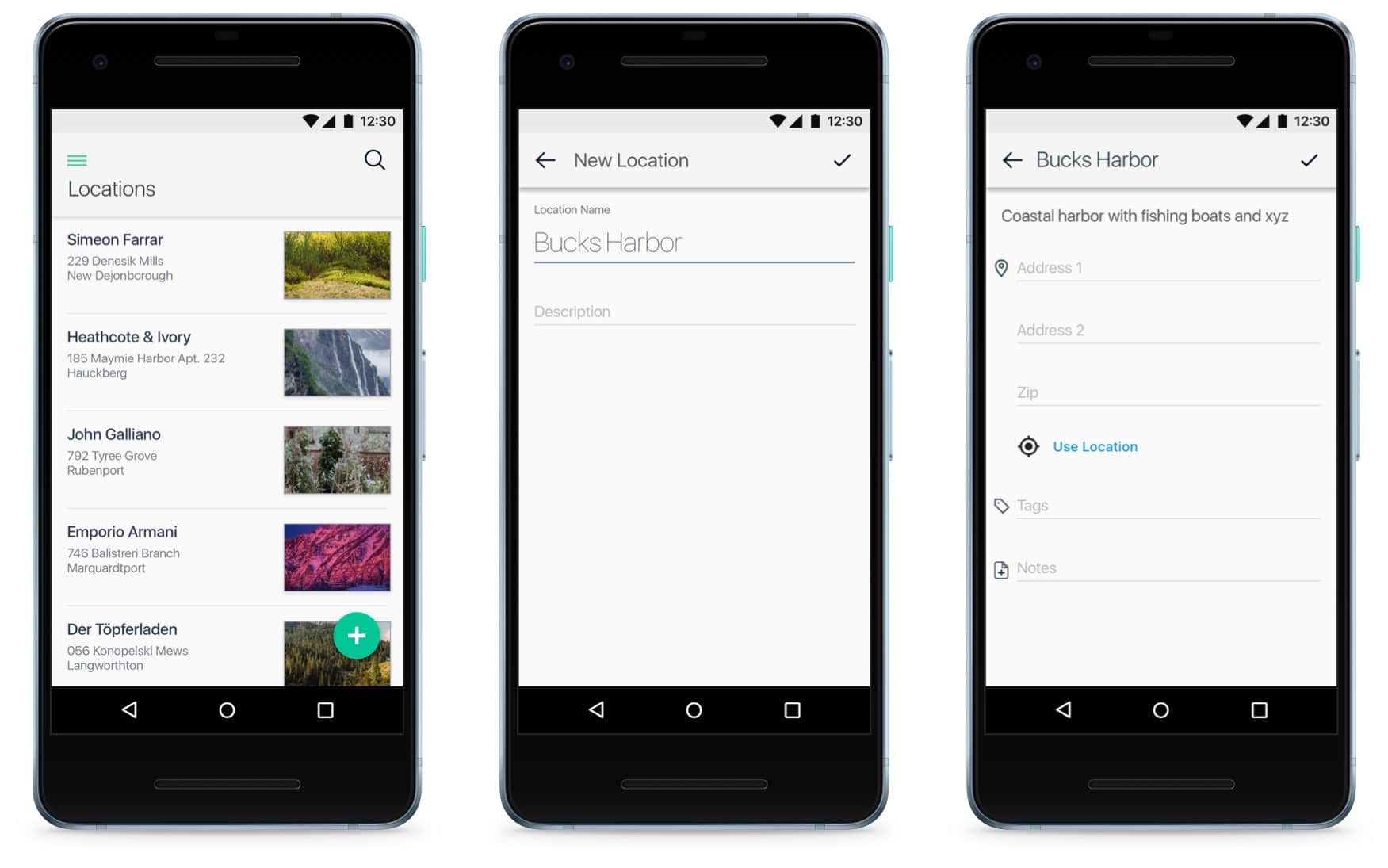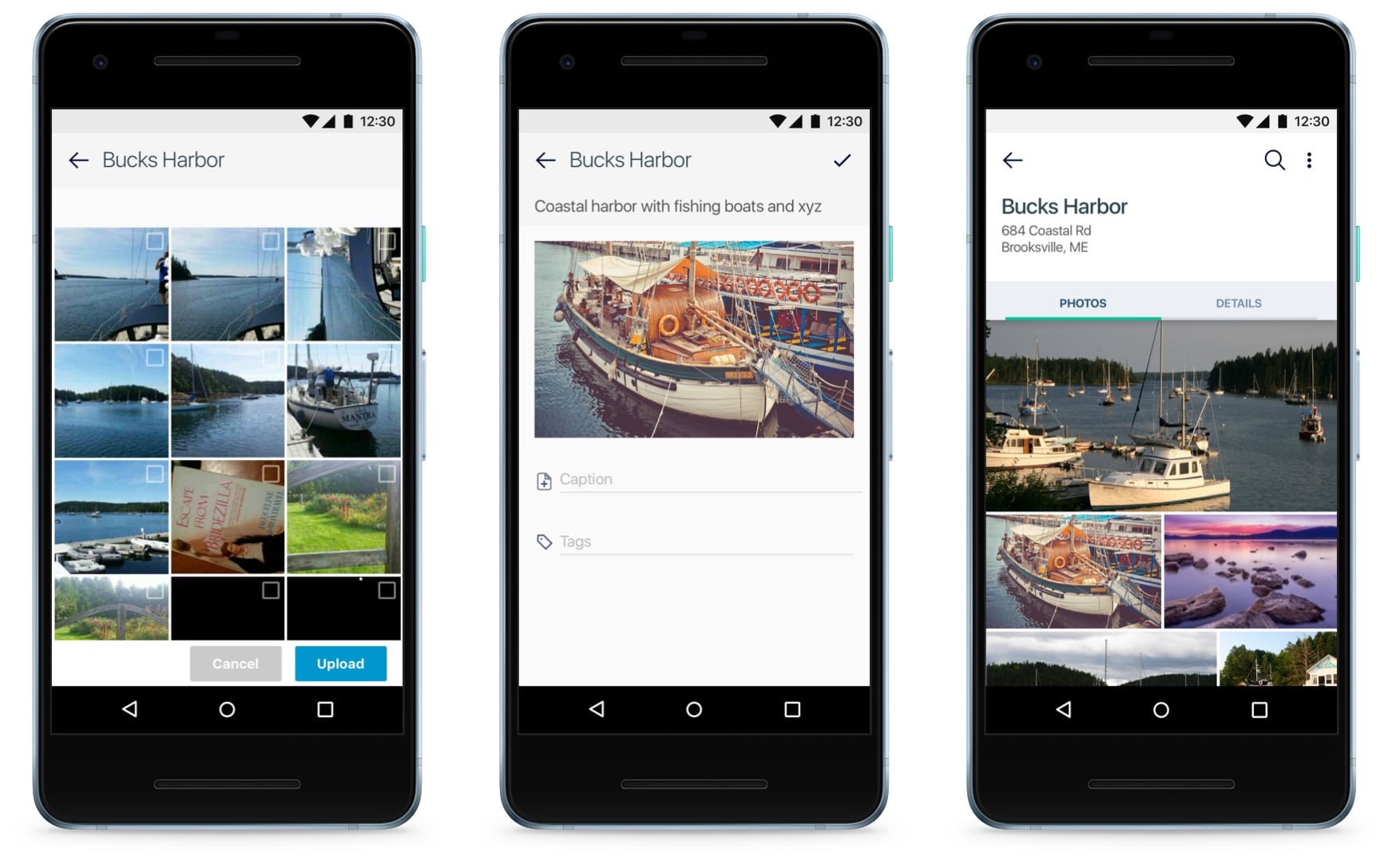 Uploading and tagging photos.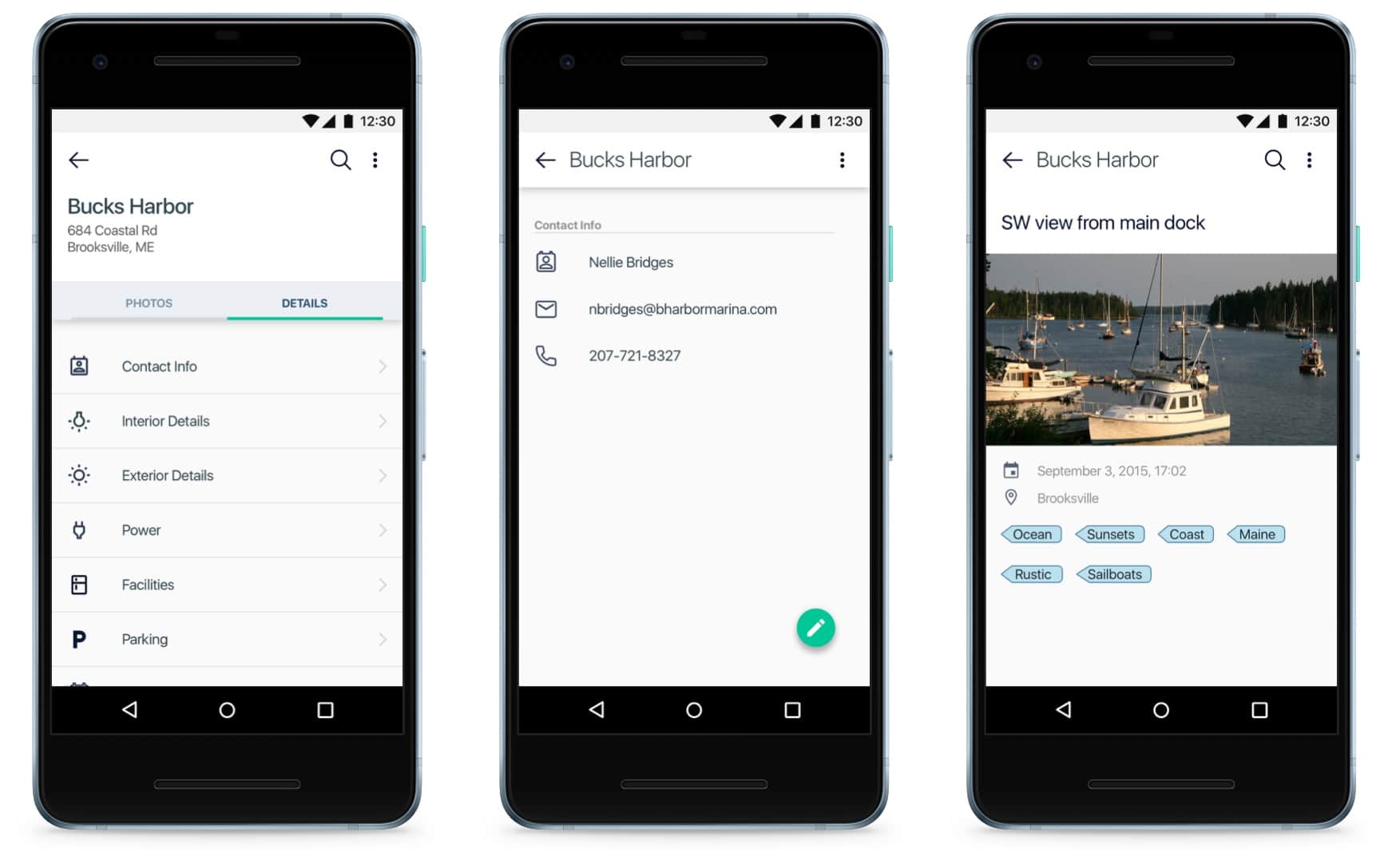 Displaying Location and photo details.