Building a new kind of bank
Banks are stuck in the past – their products and services aren't in sync with how we manage our lives or manage our money. Their one-size-fits-all products are inflexible, and the abundant fees only confirm that our money isn't working hard enough for us.
I was part of an ambitious project to build a modern, mobile-only bank, to re-invent the personal banking experience.
Challenge
The goal was to build what a bank should be. We had to create a brand, product and experience that optimized for each member, embraced simplicity, and provided great service and financial benefits.
Team & Role
I led product design across all customer touchpoints to synthesize business requirements with an elegant and intuitive user experience. I worked directly with the Managing Director to define product strategy and prioritize workstreams.
tl;dr
I designed the native iOS and Android apps in addition to other brand assets. I focused on solutions to make the experience Simple, Modern and Valuable.
Excellent financial benefits combined with features like easy bill pay, powerful search, quick signup, and guided in-app customer service all helped further the goal of redefining banking.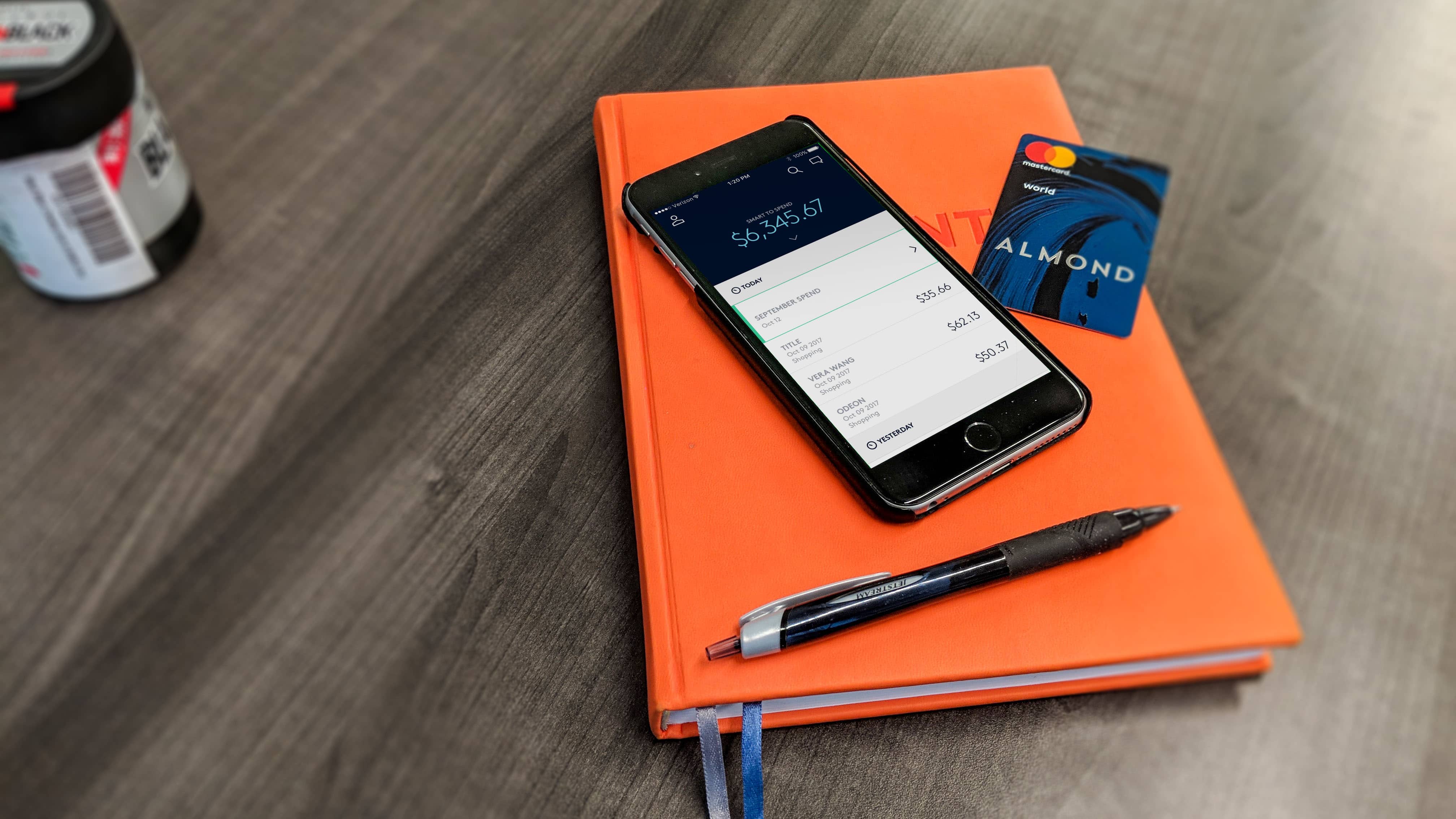 The Process
I worked among highly coordinated product, design, and engineering teams. I implemented Lean UX concepts to facilitate team collaboration and iterate quickly. Data and feedback drove design to identify problems and iterate solutions.
Research
Competitive analysis, industry reports and market research were used to understand current offerings and identify missed opportunities in the banking landscape. Interviews and surveys helped pinpoint user challenges and friction points.
Defining the Problems
I used affinity mapping to help group feedback into common pain points. Personas were created to highlight individual behavior and mindsets; they later served as a measuring stick for proposed solutions.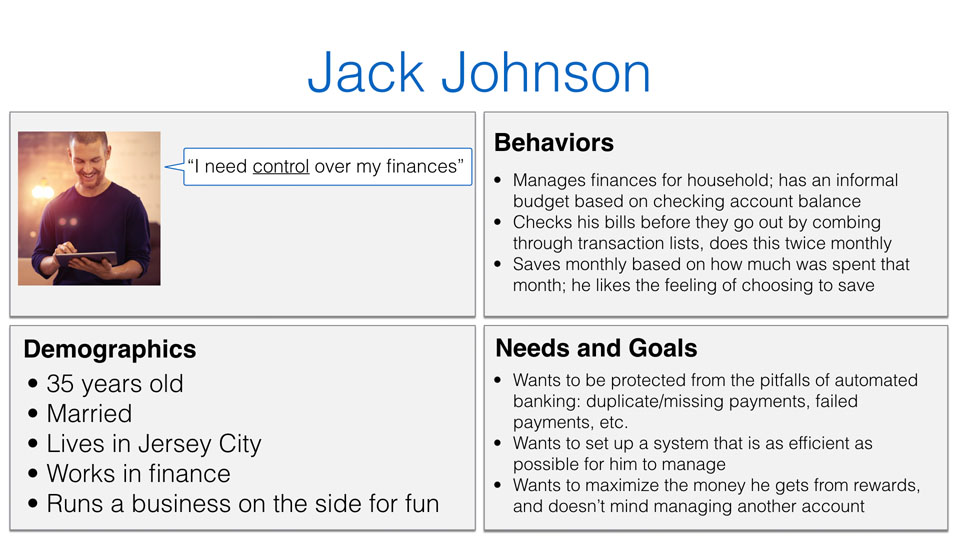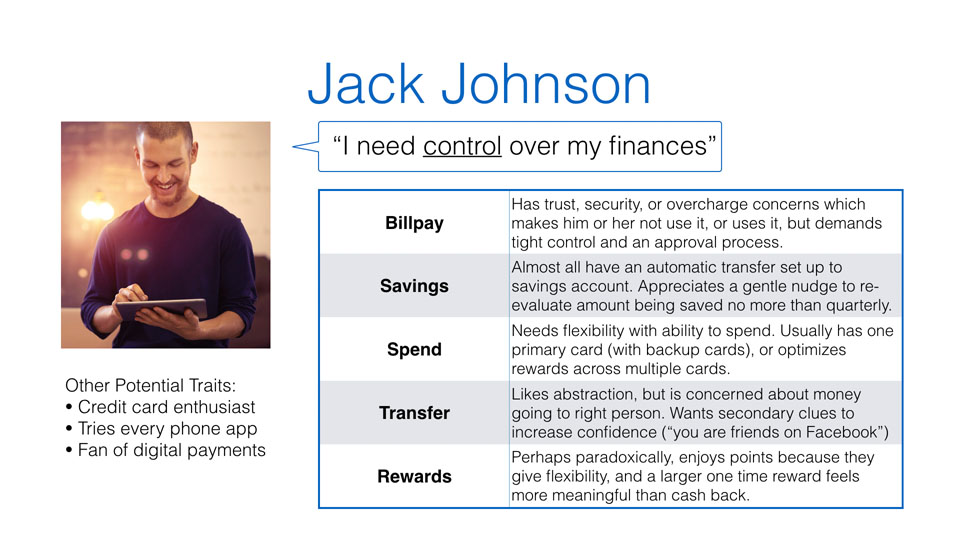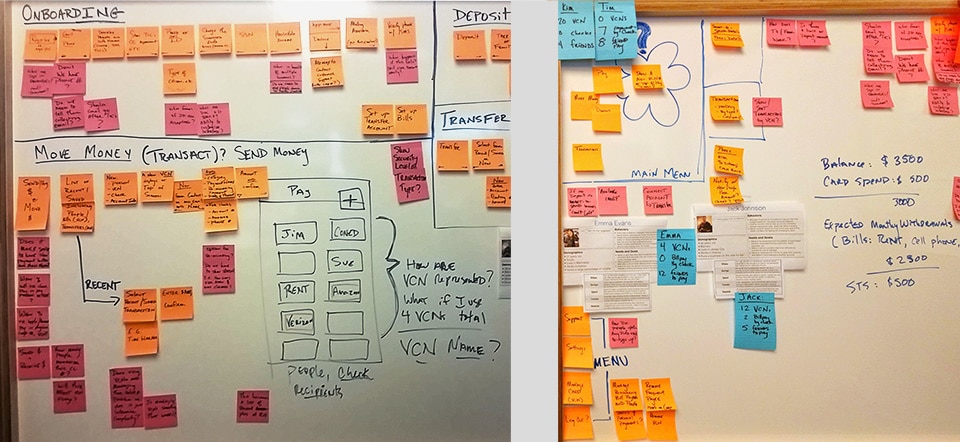 Our findings revealed three main problems:
Complexity
Budgeting and managing money across savings, checking and credit card accounts is a challenge and doesn't easily answer a primary user concern, "how much money do I really have to spend right now?" See also: odd operating hours, lengthy product lists, opaque deposit schedules.
Low value
People don't feel like they are getting much value (literally) from their bank. Non-existent interest and random fees don't make customers feel valued, or that their money is working hard.
Outdated
Mobile apps often lack basic features, are difficult to use, and don't prioritize primary user tasks. Signing up is difficult, customer service has limited hours, and checkbooks are still a thing.
Creating the Right Experience
The two most common user tasks for mobile banking apps are checking balance and finding recent transactions. With these tasks in mind as our starting point, I focused on the three components we felt most affected those tasks.
Dashboard
The first thing users would see in-app and where Spendable Cash was displayed.
Search
Finding specific transactions is difficult in most banking apps. This was a key focus and functionality I believed we could improve.
Payments
Connecting recurring billers, like cell phone, electric bill and rent/mortgage, provided more accurate estimate of "Spendable cash" and made managing money easier.
Managing Money
A significant portion of the complexity in managing money is balancing money across numerous personal accounts and calculating the overall
To solve this, we created one account that combined the best of savings, checking, and credit card into one. It behaved like a debit card, which reduced the need to pay a credit card bill or transfer funds back and forth. It earned interest and all card spend earned cash back.
An integrated product created simplicity for the user without sacrificing financial benefits. Likewise it afforded the ability to display one number to show spendable cash across all daily spend. It accounted for card spend, outstanding checks, and pending transactions. The real value and purpose was an accurate calculation of the user's Spendable Cash.
Dashboard
We knew managing monthly spend was very important to users. I experimented with several concepts – a visual approach to show spending and a data feed to show financial history.
The first approach showed balance and cumulative monthly spend as the primary elements of the dashboard. I experimented with many visualizations to illustrate the ratio between these two amounts.
I had inadvertently created a layer of complexity by using visuals instead of showing transactions. Removing that context forced users to understand their finances from an unfamiliar viewpoint.
The second design mirrored a financial social feed – in addition to transactions, it included account notifications and messages.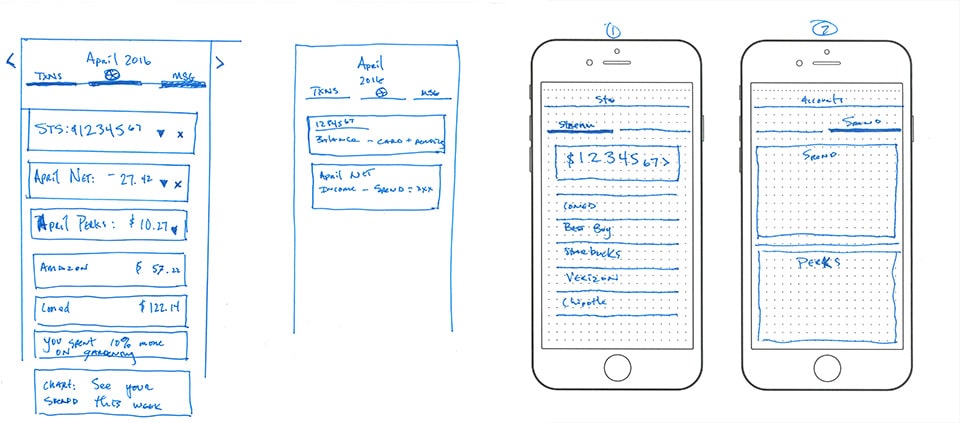 During user testing, participants understood what the visualization showed, but found that the information wasn't meaningful. The problem was everyone had their own system to manage the complexity of their specific bills and cash flow. The graph didn't reflect or match that mental model, and as a result, wasn't helpful. Additionally, a graph didn't provide enough context; understanding the what and why of spending was crucial.
In contrast, users immediately found Stream usable, both as a financial layout and as a feed of information. Including messages within the stream meant one integrated view – users didn't have to navigate for important information.
Search
I did some quick testing to see how users search. I discovered there were two primary user goals: searching for a single, specific transaction, or a related collection of them.
When searching for a single item, for example double checking a specific charge, we found:
In most cases the target was a recent transaction
Users were likely to search by merchant
When searching for a collection, checking the number of trips to Starbucks in the last month, for example, we found:
The desired results spanned a longer time period
Users were likely to search by category or merchant
The distinction was important because I could create a better search experience by designing for the different goals. This was accomplished by suggesting specific transactions and merchants as users typed. Providing suggestions:
Made search faster by reducing typing
Reinforced search terms with visual feedback
Showed different types of results, like a specific transaction or categories
Including specific transactions or messages in the search suggestions addressed a specific user goal and shortened the search process. To create consistency, suggestions were ordered by a carefully crafted ruleset.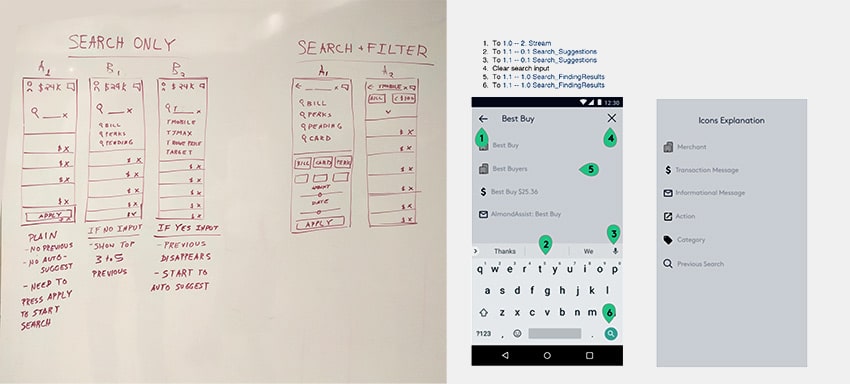 Providing search suggestions as users typed:
Made search faster by reducing typing
Reinforced search results with visual feedback
Showed different types of results, like a specific transaction or specific merchant
Including specific transactions or merchants in the suggestions addressed a specific user goal and shortened the search process. Search suggestions were customized to the user's transaction history – so they'd never get bad suggestions. Finally, to create visual consistency, suggestions were ordered by a carefully crafted ruleset.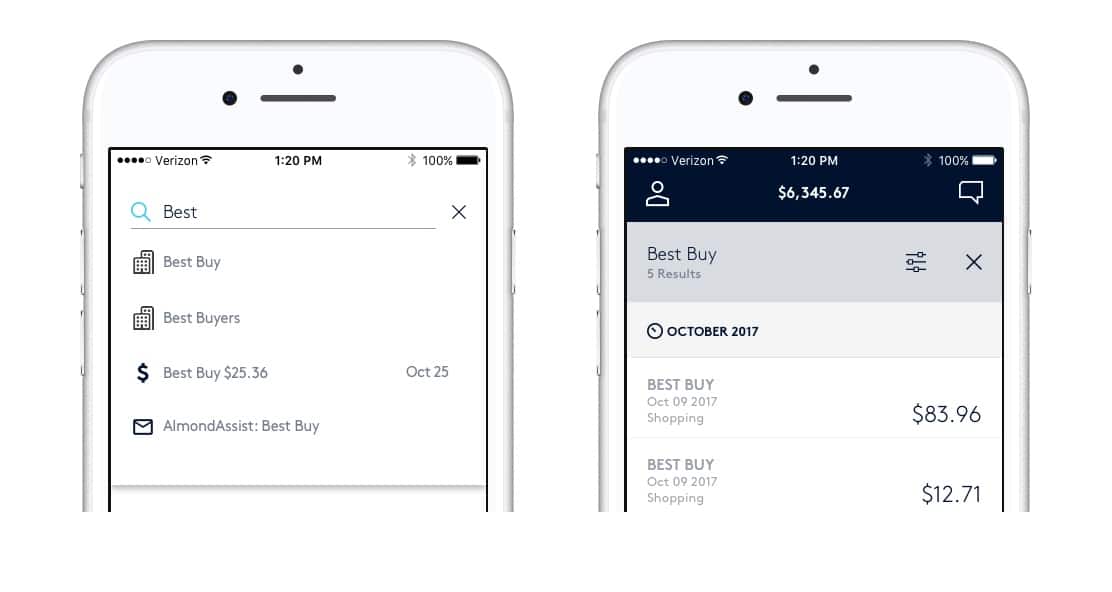 Suggestions based on user input are of a specific type, including merchant and specific transaction.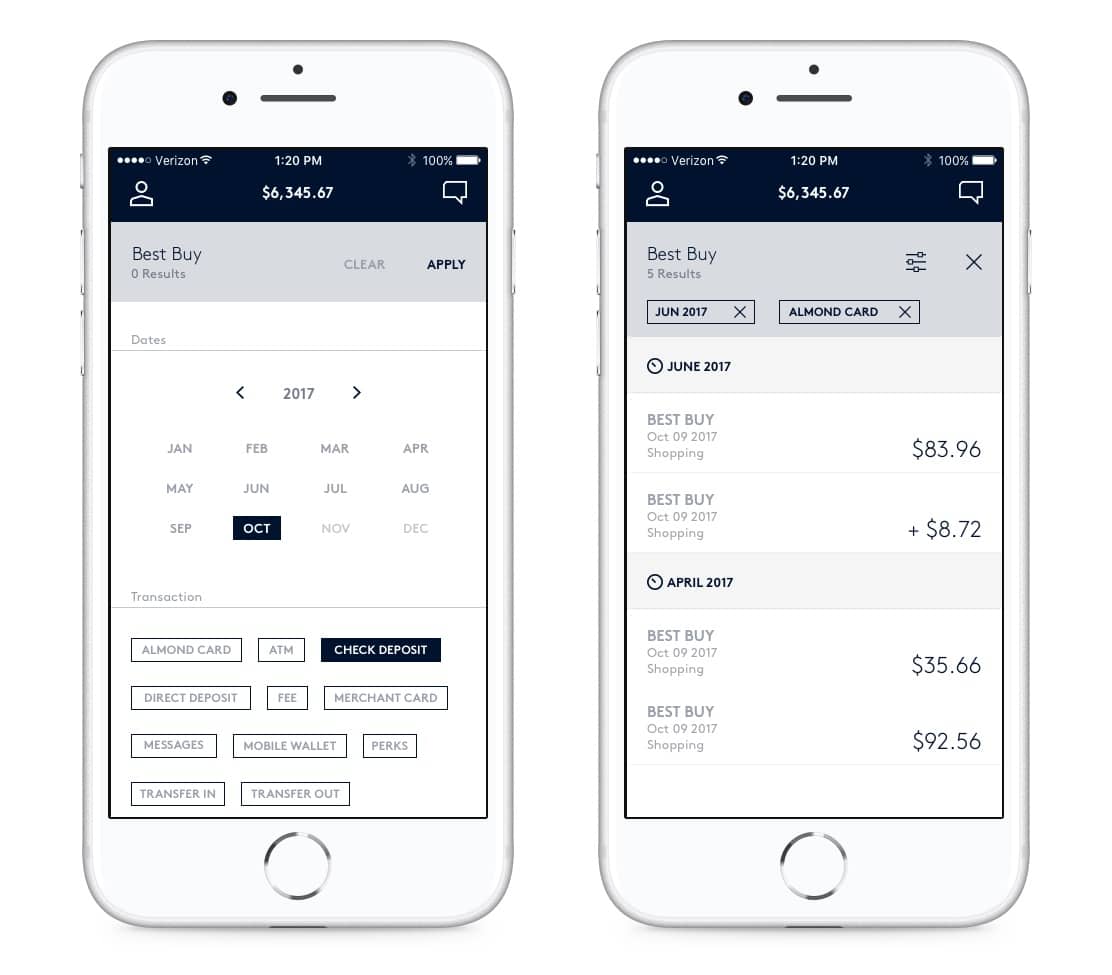 Most mobile apps implement search as a separate screen, but conceptually it made sense that Search simply updates the Stream. It also reduced navigational overhead.
Payments
Industry research showed users converted at a higher rate for products with Bill Pay. Spendable Cash also became more accurate and valuable to the user when recurring bills such as rent, cell phones, and Netflix were synced to the account, giving users a clearer picture of their available funds.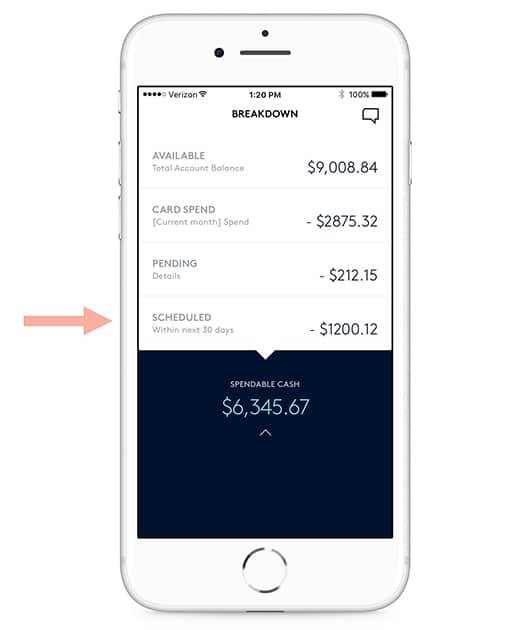 Connecting recurring bills improves the accuracy of Spendable Cash - but also give greater budgeting ability.
To make adding recurring bills easier, I designed the payment flow to select the recipient first rather than payment method. A database of billers allowed users to easily find the recipient. Using a third party, the amount due and date were available for most national billers after entering account credentials. With that information, Spendable Cash was updated and payment was sent on the due date.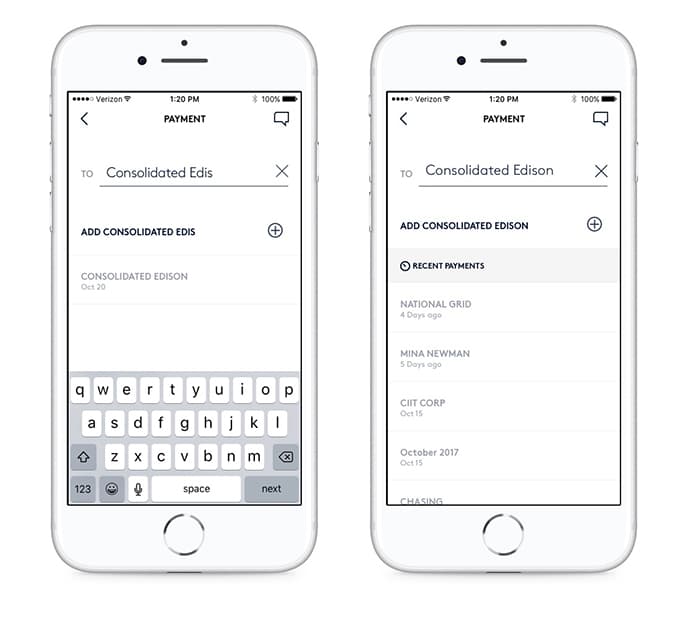 This made choosing a payment method or manually entering bill information for most recurring monthly bills unnecessary.
This design also allowed additional billers and payment methods to be added seamlessly without redesigning the user flow.
Result
This project represents a ton of work, lots of research, industry knowledge, and design thinking that yielded some yet-seen ideas in the market.
We developed creative solutions in a highly regulated industry to build a new personal finance product that represents a thoroughly new approach to banking, one that prioritizes the user.  We accomplished this through product features, giving people a better deal and making each dollar work harder.